January, 2011: I asked friend and funeral director extraordinaire Dave Farley if he would help me retrieve this truck from a car dealer in Greenfield, MA. Dave has an F350. We borrowed an enclosed trailer and drove from Venice FL to Greenfield in two days. We got there, loaded the '35 and got out between snowstorms. It was my first dealing with snow since 1985.

Step 1: down to metal

Bell "before"

Bruce "Doc" Collison helped me extensively with this truck's restoration. The ladder that came with the truck was severely warped. I found this ladder for sale on-line. It was bought at a Hardware store with a 1959 price tag on it. Doctor01 sanded it down to bare wood and started from scratch with oak stain and spar urethane.

Rust behind the rear fenders- metal replaced.

Gas tank straps usually hold a tank on from underneath; but in this case they are over the tank and hold it in place under the driver's seat

This fan was blamed for inadequate air flow, so it was replaced with a 5 blade fan. While ordering parts for this truck, we found the motor was from a 1947 Chevy truck.

After discussing the possibility of using this truck for fire fighter funerals, I built this casket table complete with rollers. It fits on top of the hose bed of this truck, and can also be placed in my 36 Ford. (I have a part-time background in the funeral world).

And now for a special feature- the tank in this truck is about 117 years old.....

In December of 2016, Joe Lombardi a/k/a JC Molly's Motorsports in Nokomis, FL had to take the tank out to change out the rear end on the truck. I was sitting at a Christmas party when he texted me photos of the tank. It was lettered for Resolution Hose Company. Out of curiosity I e-mailed the fire chief in Millville, NJ (the original owner) asking him for an explanation. Evidently this tank was used when it was put in my truck in 1935.

The next day I got a phone call from a retired fire chief, who heard my story. He said that when he was 12 years old, the firefighters used to let him ride on my truck. He said that at the time the truck was built, the tank came from the Resolution Hose Company, which became part of what is now Millville FD in 1915.

So we know the tank is pre-1915. He also told me that the tank was acquired by the Hose Co used. It was on a White (brand) truck used to deliver oil and kerosene before it went to Resolution. So the tank belonged to Resolution before 1915 - and to an oil company before that. So we're guessing the tank was built in 1900. We cut the end of the tank off with a plasma cutter, and a representative of the Millville FD came and picked it up.

The tank has been replaced with a diamond plate floor, walls, suitable for parade use.

The truck moved on to a collector in Tennessee in the fall of 2019.

Saturday morning of Super Bowl Weekend, 2011. We arrived home late Sunday night.

Anthony Cresci & Sons of Vineland NJ built this truck. I could find no literature that reflected Cresci building fire trucks. After checking with many antique fire truck photographers, I found only one other fire truck made by them - a '34 Chevy. So I've concluded that they only made 2. This one was made for the neighboring City of Millville, NJ. (Read more about them below).

Siren "before"

Bell and siren "after"

Bruce also restored the wheels, leaving the original triangles alone. I was able to reproduce these triangles for the wheels on the '36 Ford.

The front seat has been removed. The gas tank is under where the seat goes. The seat must be removed to pump gas.

Station 21 as usual

Ok, so you get an antique truck you'd like to show all over Florida. But it's not highway worthy. So you have to buy a nice new tilt trailer. Then you find your SUV isn't the best for towing so you go out and buy a used Chevy Suburban. Since then my common sense returned and the latter two no longer exist.

Winter Southeastern division convention, Antique Automobile Club of America; Port St. Lucie Convention Center, FL.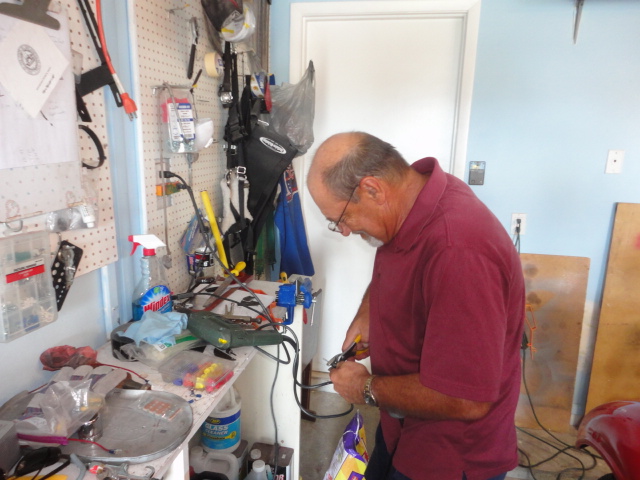 Many thanks to my friend Alex Toscano. Alex is a retired engineer. During the two years of this restoration - and also through the restoration of the patrol car and the 36 Ford- has worked with me almost every day! Good to have a person of science in the project. Thanks AL!!!!!!