This ambulance never saw real duty. It was bought by the Bergen County Police-Fire-EMS academy in New Jersey. It was two-tone green with green vinyl interior. A lot of the interior was white painted metal. It was then sold to a used truck dealer, and then to a Chevy Suburban Collector in TN. My son-in-law Dave Miner and I flew to TN and then took two days to drive it home to Venice, FL. This was in January of 2004. I knew that I wanted this done in time for the Professional Car Society Convention in Daytona that August. To be more like a modern ambulance, wooden shelves and compartments were built inside. I gutted out the entire truck; removed fenders, doors, and all glass. The truck was white with a blue stripe when we picked it up. We sanded and chemically stripped the paint to the metal. The pictures tell the story. The original roof had been cut off at the B pillar, and raised. A box was placed on the vehicle with the cut-off top put back on top.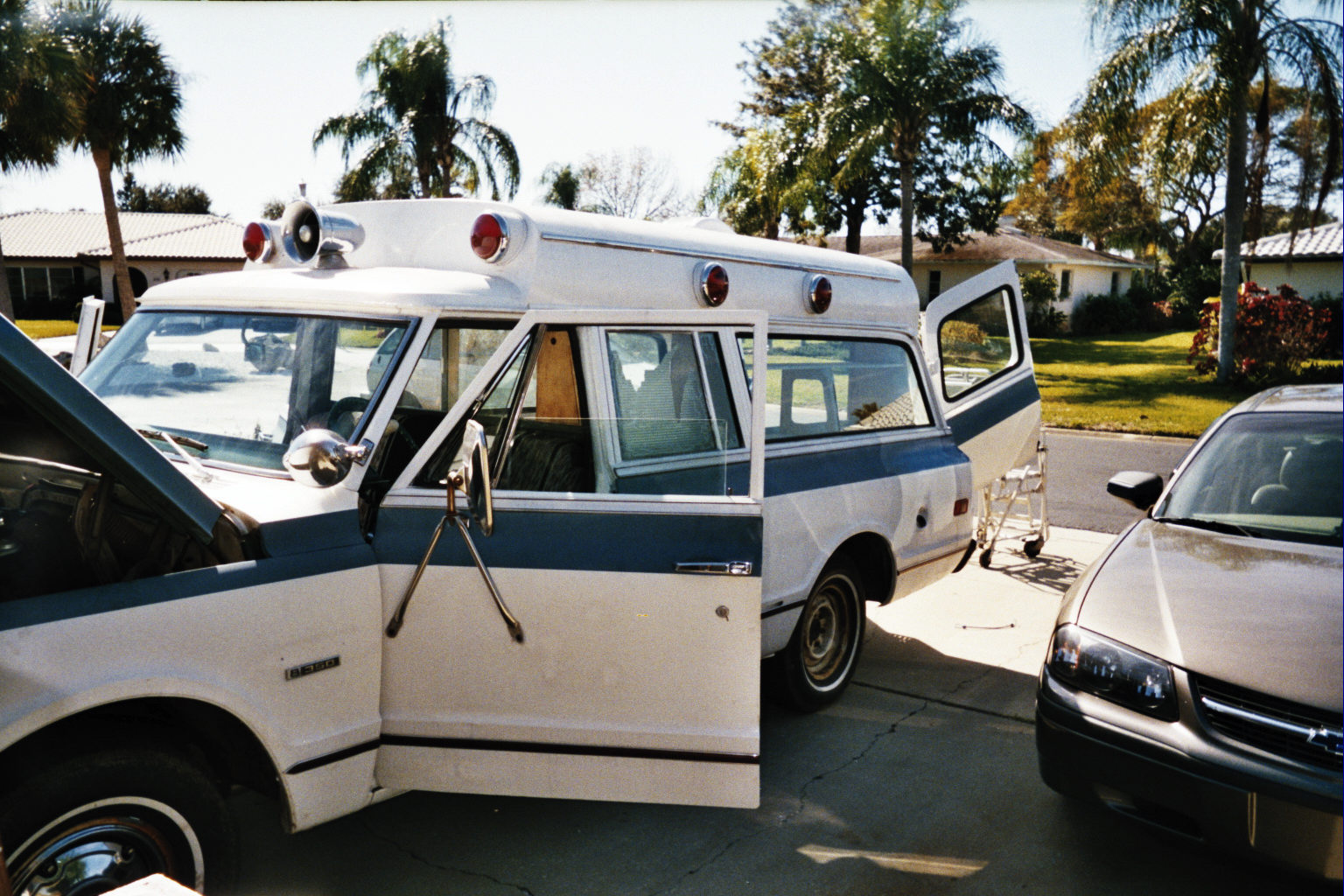 | | |
| --- | --- |
| | |
| | |
| --- | --- |
| We worked on this during the spring and summer of 2004. | This truck was gutted. Everything was green. |
Son-in-law Dave Miner starts the headliner with aircraft quality (flame resistant) material.

Taken at Venice Regional Health Park, 2004

The truck moved to Paris Island, being owned by a USN Commander. He belonged to a volunteer water rescue group and he used it to tow the boat to emergencies.

Station 31 is now Station 21

I was lucky to find this linoleum. It is no longer made - but anyone restoring a professional car ambulance is looking for this print.

A cot could be placed on the squad bench on the right. There were no accommodations to hang any cots from the ceiling.

The owner at Paris Island donated it to the LA County Fire Museum to be used for display with other vintage emergency vehicles. I believe the museum SOLD it to a collector in CA who in turn sold it a few days later. I don't know who exactly owns it now.