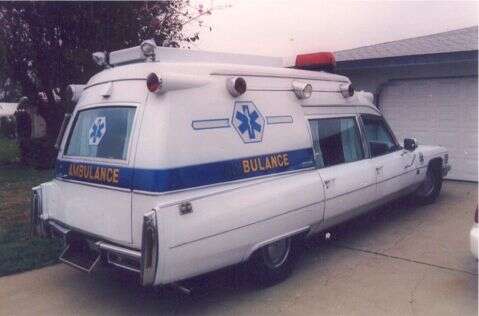 The Criterion by Miller Meteor was one of the last ditch efforts by professional car builders to be able to meet Federal requirements mandating a certain amount of room in an ambulance.
This was my first venture into the world of professional cars in 1988. Due to the size of these vehicles, prep and painting takes about four times the amount of time, materials, and labor compared to an average size car.


This photo op was at Sarasota County Fire Station #21 (#31 at the time). I always took photos at the station with each project when it was done.

This design dropped the floor in the back to the same level as the front seat, but raised the floor over the tire wells in the far back. There were double folding doors between the patient compartment and driver compartment in an effort to meet regulations- which was impossible. Windows were removed to allow room for medical equipment and storage.

Taking the chrome and accessories off these vehicles is a huge task. Wiring diagrams are a must. This car was in a body shop from July through October, 1998.

The ambulance was sold to a doctor who owned walk in clinics in San Diego. He wanted it for PR in front of his clinics. He sold it to A.J.Heightman, the publisher of the Journal of EMS. It was then sold to a collector in California who touched up the restoration. In this photo, Randolph Mantooth, star of the hit TV show EMERGENCY! poses with it in California at an event where he was making an appearance.